Project 'H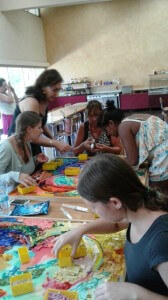 eart and Soul' was in Nes Ammim!
'Heart and Soul' is a mosaic made of up four panels of colorful hearts designed by artists Joani Rothenberg from Indianapolis, Indiana and Yael Buxbaum from Israel. The Medical Center of Nahariya is collaborating with Indianapolis' St. Vincent Hospital and Health Center on this project.
Joani Rothenberg is leading the work on St. Vincent's four panels which are mirror images of the panels in progress at the Medical Center. When all the panels are completed, each hospital will gift two of its panels to the other for display in the others' institution.
The community art project will hang in the entrance of the new Cardiology Center (currently under construction). Nes Ammim volunteers were asked to have a part in it. A beautiful way to express the good relationship between Nes Ammim and the Galilee Medical Center in Nahariya.