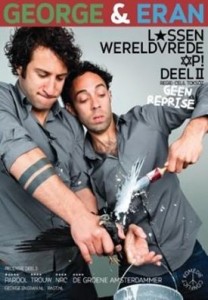 On October 3, there will be again a Nes Ammim day in the Netherlands for Dutch speaking friends and others who take interest. A highlight will be a cabaretshow of a Syrian (left on the photograph) and an Israeli inhabitant of Holland. Click here for the programme and to sign-up.
George & Eran are very good friends but they don't avoid a fight. They dare to say everything to each other. Their show was is a big success. With Jewish self deprecation and Syrian engagement, they investigate their family histories and personal views. They are searching for the core in the Jewish Arabic conflict. Of course to solve it, for once and forever.
We highly recommend them to you and we hope to see you on October 3!