Dialogue with Kaleidoscope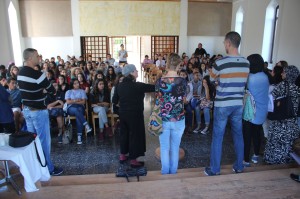 At the 11th of November the dialogue organisation Kaleidoscope visited Nes Ammim with 150 teenagers. The teens are for the one half Jewish and for the other half Arabic. The aim of the event was to help the teenagers to develop social skills necessary for coexistence, to develop an understanding of each others cultures and to begin to develop an appreciation for commitment to community service and citizenry.
The evening before there was a meeting for the volunteers with Chana Reifman Zweiter. She told about her work, what Kaleidoscope does and what they were going to do in Nes Ammim. She also gave an introduction about the exercises in which the volunteers could join the next day.
The topic of this exercise was 'identity and multiculturism'. It was an exercise about how everyone is dependent on and connected in community. They connected it to volunteerism and the NA volunteer described what they do and why they are volunteers in the first place. It was very informative and moving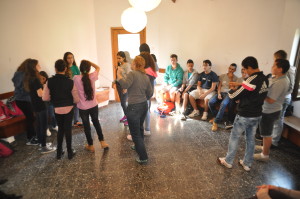 for everybody. Both sides, volunteers and teenagers, appreciated the exercise very much.